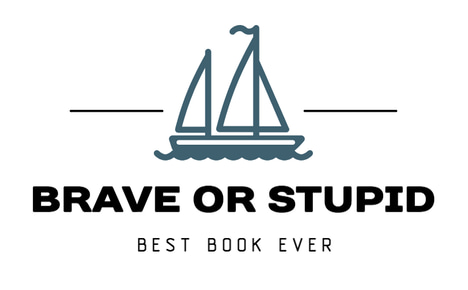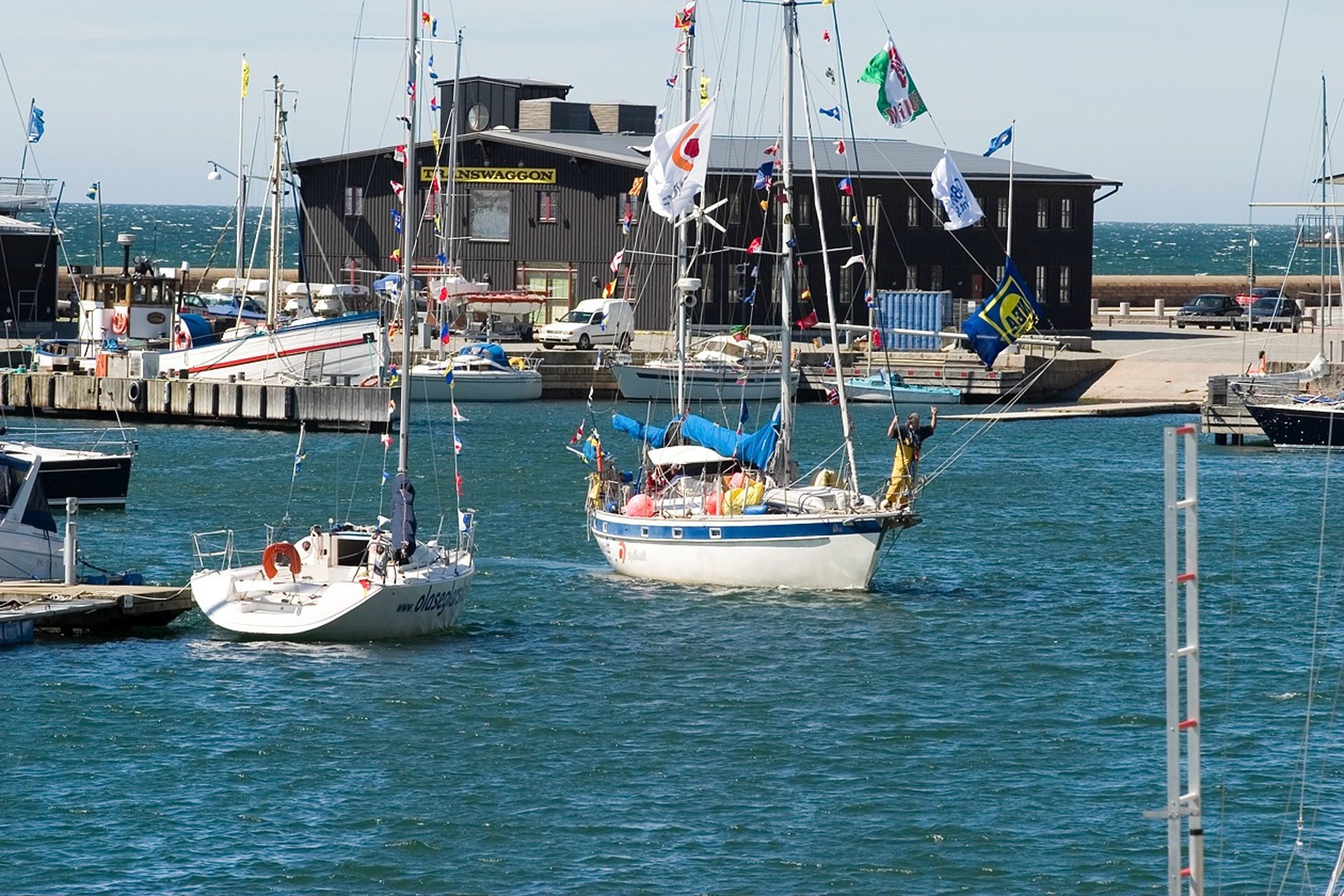 Brave or Stupid
The Ultimate Adventure
Join us on the journey of a lifetime as we share our story of learning to sail, and then sailing around the world in a Hallberg-Rassy 42E. Our book is more than just a tale of adventure, it's a call to action to pursue your dreams.
Don't wait, start living!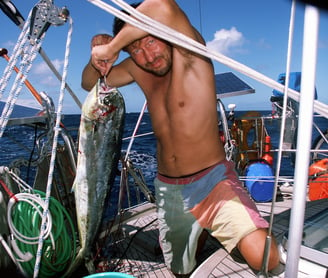 Embark on an Unforgettable Journey
Experience this incredible journey with me.
Feel like one of the crew, as I take you to places you have only dreamed of. I can promise you a lot of laughs, a touch of history and meetings with some incredible people.
Let this book inspire you to think deeply about the dreams you carry in your heart; and help you to believe again that we each have within us exactly what it takes to make those dreams come true.
You might not wish to head off in a sailboat around the World. You might wish to change what is right in front of you. My wish is that these stories of my adventures will give you that extra boost to launch yourself.
It is time to slip our moorings and follow the call of the oceans ..!
When you read about someone sailing around the world, it's usually a dotcom millionaire or a professional adventurer. "Brave or Stupid" tells a very different story. It's an Everyman Tale about a middle-aged, seasick electrician - with no money - who suddenly, and for no reason, decides to sail around the world. It's the story of Yanne Larsson, a man with a dream born not out of a passion for sailing, or a search for identity, or the need for a challenge. This is the story of a simple handshake. One of the old-fashioned iron-clad ones.
A casual suggestion over wine, with best friend Carl Andersson, turns into one of those ideas that just won't go away. Twenty-four hours later, a handshake decides it.
The little details – buying a boat, learning to sail and saving up money – take five years, but in 2002, the two men leave Helsingborg, Sweden on a three-year voyage that will change them forever. Storms, tropical diseases, drama, love and comedy - their story is an adventure like no other. "Brave or Stupid" is a book for anyone who has ever gone beyond what is sensible and realistic, to discover a whole new world outside and a whole new person inside.This is a book for anyone who still believes in the power of dreams. And handshakes...
Are you ready to embark on a life-changing journey with Brave or Stupid? You can purchase our remarkable book from Amazon. Order your copy of the world's best sailing book today! As an e-book, audio book or printed book
Here's our Readers Reviews
Reviewed in Germany on 16 October 2015
Could I give 6 stars? If you are a sailor or not, you will dream thanks to two exceptional Swedish guys. I have read a lot of books on sailing adventures but this one is at the top. Very funny and very human. You will discover a fantastic world and you will want to do exactly the same thing,
take a sailing ship and make a circumnavigation. Congrats and thanks. Skol för Fan!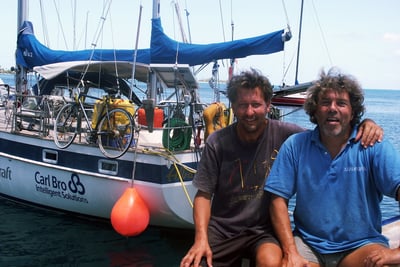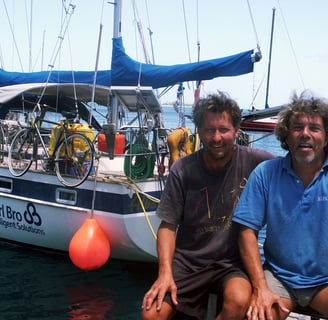 Tom Cunliffe has been a regular contributor to Yachting Monthly, Yachting World, Sail magazine,Classic Boat and 'Sailing Today' for many years.[3]A professional writer since 1986, Cunliffe has won the Best Book of the Sea award twice, for Topsail and Battleaxe and Hand, Reef and Steer.[4] He is author of the important Shell Channel Pilot for the English Channel.
In 2010 he presented the award-winning six-part BBC documentary series, The Boats that Built Britain. He also presented the popular 'Boat Yard' series for Discovery TV. He now has a big following on his Youtube channel, 'Yachts and Yarns'.
* from Wikipedia
5.0 out of 5 stars An inspiring read
Reviewed in the United Kingdom on 14 June 2023
A great account of an amazing and remarkable adventure. Two determined and resourceful men achieving against the odds. The book has so much humour and gives you a real sense of the characters they met along the way. A must read for anyone who loves travel and meeting new people. Thoroughly recommend it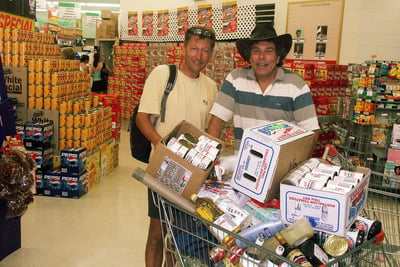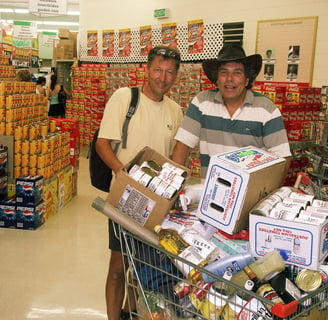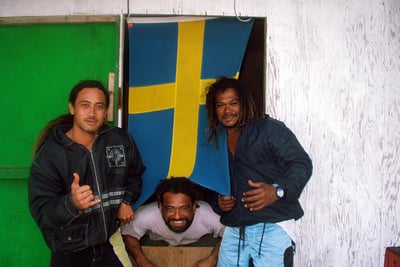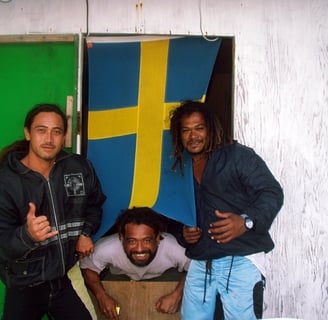 5.0 out of 5 stars Brave and Talented.
Reviewed in the United Kingdom on 18 February 2015
Great travel story of a circumnavigation with a difference. It is very amusing and well written and you do not have to be a sailor to appreciate it. I couldn't put it down. I bought a copy for my husband as a Valentine present and started to read it before I gave it to him. As I was too impatient to wait until he finished reading it I downloaded a Kindle version for myself! I really miss the two skippers and their adventures now I have reached the end of the story.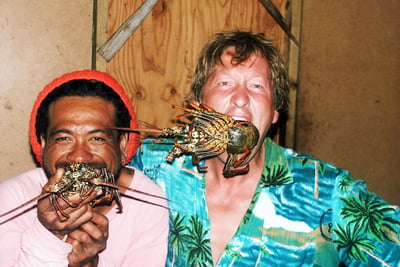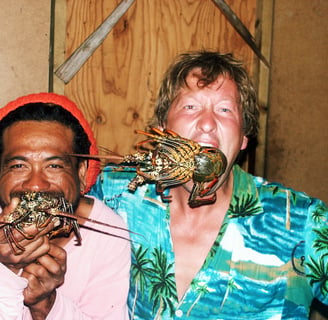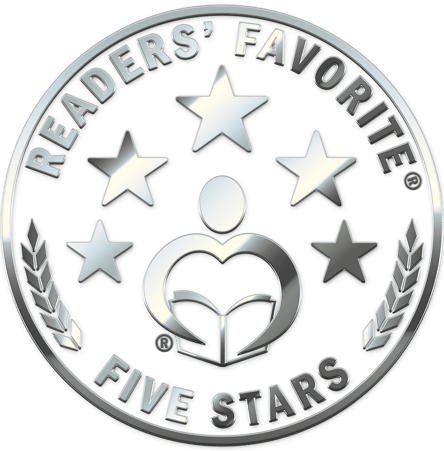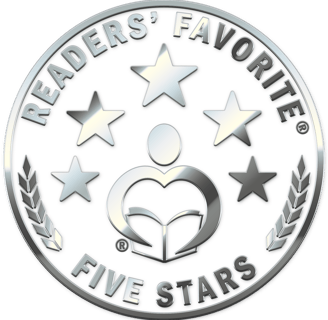 BOOK REVIEW
Reviewed by Faridah Nassozi for Readers' Favorite
Brave or Stupid by Tracey Christiansen, Yanne Larsson and Carl-Erik Andersson is a rich narration of how two best friends fulfilled their dream of sailing around the world. Carl and Yanne had been best friends for very many years, and one day they thought of taking a sailing trip around the world. What started out as just a loose idea by Carl soon became a serious goal and the two started planning what would turn out to be the adventure of their lives. For five years, the two planned and prepared, ensuring that they would be absolutely ready for the challenges of the sea. In June 2002, after more than two decades of a solid friendship, they left Sweden and their friends and families behind, and set off to see the world aboard their beloved boat. Their story takes you from island to island, city to city, beach to beach, and all the glory and challenges of the three-year journey. Come along now and enjoy the trip of your life as you see the world through their experiences.

Brave or Stupid by Tracey Christiansen, Yanne Larsson and Carl-Erik Andersson is an amazing story about a journey around the world filled with bravery, inspiration, going after your dreams, and living life to the fullest. The experience each part of the journey gave Carl and Yanne was simply priceless and even the numerous challenges they had to overcome just added to making the journey even more memorable as they moved from one destination to another, taking in life and learning the different cultures and lifestyles along the way. The numerous pictures of the different places they visited added to the beauty of the story, especially the breathtaking images of the islands and the beaches. Their experience is beyond description and reading their story had me thinking that anything is possible; all you have to do is want it badly enough and work towards achieving it. So, Brave or Stupid? I would say brave, definitely brave.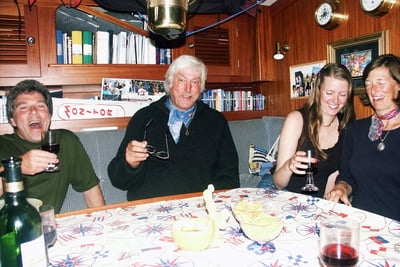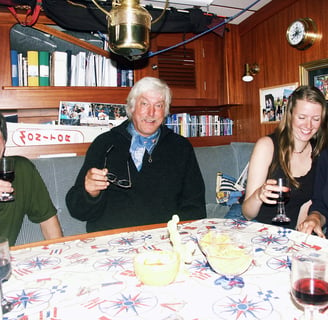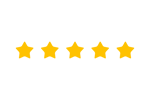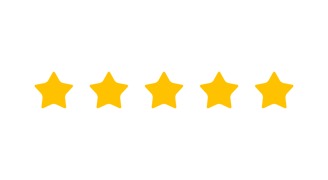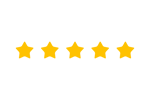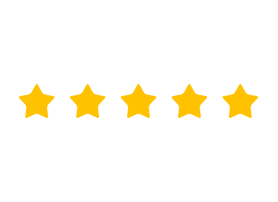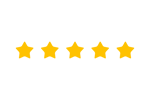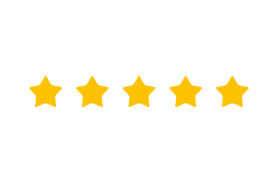 1.Encouragement
Our book aims to inspire you to pursue your dreams. We hope that our journey inspires you to take that first step towards the unknown.
2.No More Excuses
Many people don't pursue their dreams because of fear. But we know, first-hand, that chasing our dreams is more rewarding than staying put. We hope our story gives you the push you need to pursue yours.
3.No More Excuses
The logical explanations we find for not doing things can also be the logical explanation for doing that exact asme thing. Yes, circumstances differ, but outlook and attitude can shift a lot of obstacles.
4.Unforgettable
Our story is unlike any other, taking the reader through the ups and downs of learning to sail, following the wind around the world and the epiphanies that surfaced during that time.
5.Inspiring
We want everyone to be inspired to live their best lives. We hope our account will leave you ready to chase your next adventure.
6.Life-changing
Our combined approach to personal challenges, mental fortitude and finding the courage to take risks, make this one of the best books about sailing ever written.
Inspiring Others to Pursue Their Dreams
How to fish from your boat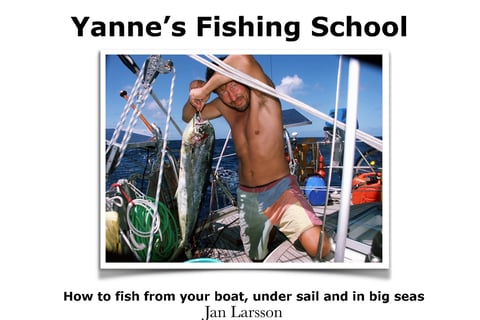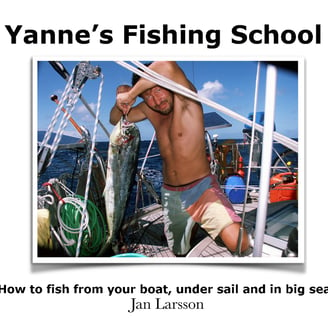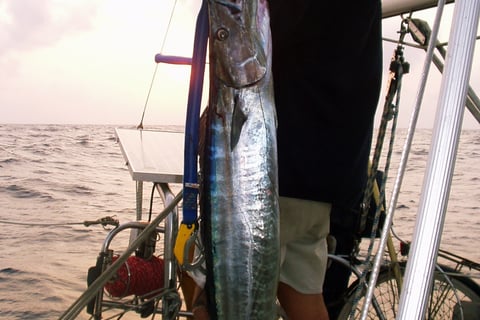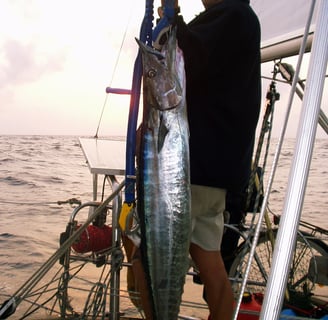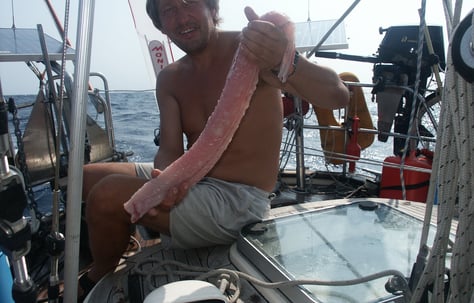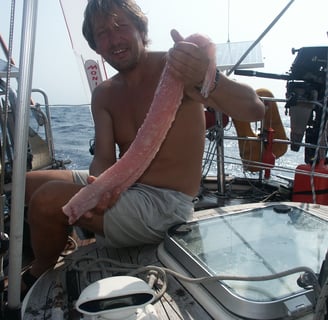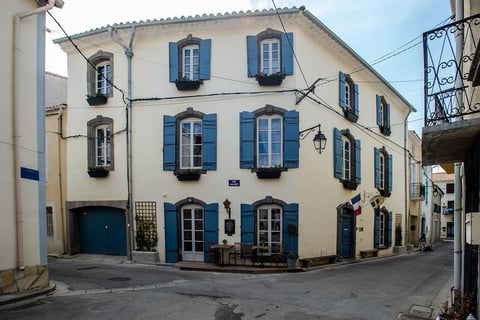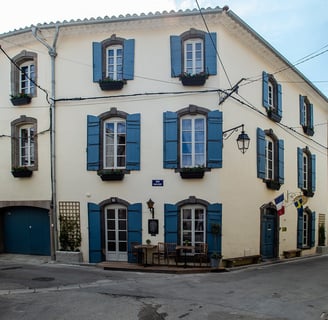 B&B Rue Galilee my second dream
We had our first "Empire State" moment, thanks to you
Thanks to the renowned travel and hospitality critic, Alexander Lobrano, who described us as "one of the best little hotels in France", our number of website views the following day went into orbit!
That was in September 2019. Our schedule of bookings for 2020 filled up faster than our eyes could track. But then came the pandemic. And those cancelled bookings dropped off the page almost as quickly as they had arrived.
But Janne Larsson is not the kind of guy who gives up on a dream. Not when it's been so long dreamt of, and when it took so much effort to bring it to life in the first place. Author Sara Verrall, who penned his second success story "How to Create a Great B&B" wrote: "I had followed my own route to the sun, and now it was time to walk beside him (Janne) at "Rue Galilee B&B". We adjusted, we compromised, and we did what it took to get by. We followed the rules and kept our doors open, even when sometimes we only had one couple staying, for one night only. Those guests enjoyed personalized service and plenty of space … and the business kept ticking over.
Fast-forward two years and here we are; tired but happy at the end of a busy High Season which has held rooms full of international visitors. From Europe, Australia, Great Britain and - at last - from The U S of A. Our American guests are telling us that they have waited almost three years to experience whatever it was that caught Alexander's imagination in 2019. And they have not been disappointed."
"How to Create a Great B&B – from zero to New York Times" is another book written to encourage others to follow their dreams. We want to share our good times, and the lessons we have learnt. This inspiring, true account of one man with a good attitude, and a lot of help from his friends, is an entertaining read in its own right ... and it might fan the flame of your long-held passion, too!
As Janne says, "Welcome to another day in Paradise"
"Welcome to Rue Galilee B&B"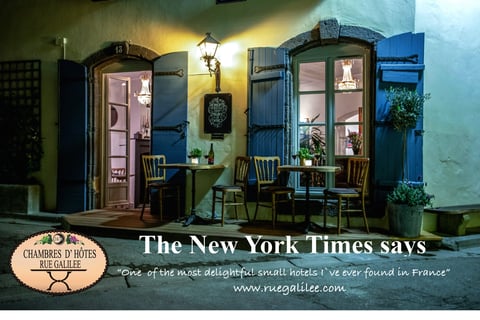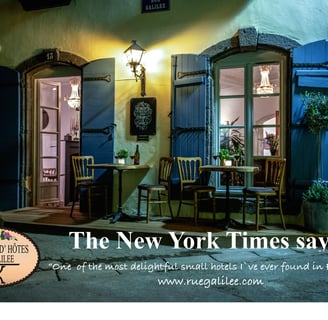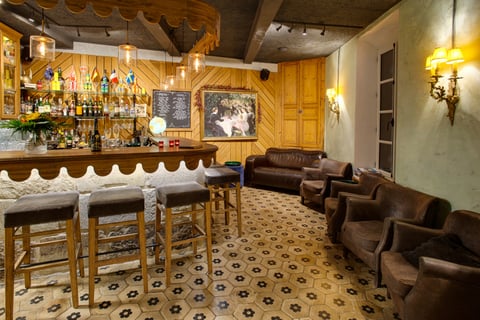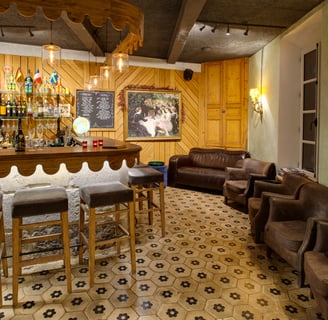 About my girlfriend
Sara Verrall
Author
Entertaining, Encouraging, and Inspiring
Sara Verrall is an author who captivates readers with her warm and accessible writing style. Her books are drawn from her diverse life experiences, most notably moving "solo" to France, then helping enhance her newly-met boyfriend's charming B&B (see section above). "Dream it, Do it ...Why not?" was published in 2021, and other titles to follow will including tales from recent experiences in Mexico, and her successful recovery from a daunting health diagnosis. Search for her by name on Amazon, or visit her dedicated website (below).
If you are looking for a light-hearted, honest read, which offers a refreshing perspective on some of life's questions, let Sara share some of her gently philosophical reflections with you.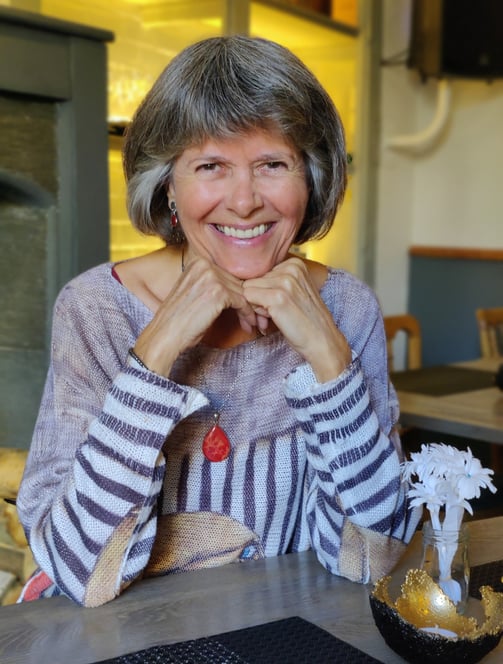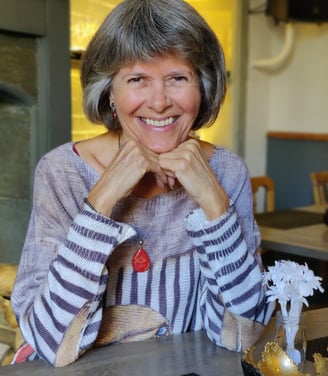 I have always dreamed of different things. Those dreams have become goals that I've aimed to realise … one way or another. Some have taken a little longer than others to come to fruition, but I am happy to claim a couple of notable Big Dreams, now fulfilled.
My first achievement was to sail around the world, with my friend Calle, in our Halberg Rassey 42E yacht. As a seasick electrician, with no previous experience, this took a lot of planning but the ensuing three-year journey – packed with great encounters and a few scary adventures – made it all worthwhile. You can read more about it in the book published under the title "Brave or Stupid" and make your own decision as to whether it was a wise choice or not!
My second, and current, Big Dream was to create and run my own Bed & Breakfast – despite having no experience of the hospitality world, either. Finding a near-ruin of a house in a little-known French town, enlisting the help of a couple of fantastic local builders, and working like a man possessed for ten months brought my greatest reward. Opening the doors to "Rue Galilee B&B" in June 2016 made my heart sing. Despite not speaking a word of French, I feel like I have come home. I now love welcoming guests from all corners of the world, sharing the joys of my adopted home town and sometimes telling tales from my times at sea, too.
"Welcome to another day in Paradise", and you can read more about this change of life direction in my other book "How to Create a Great B&B".
I thank all readers for the fantastic support you give me, it warms my heart every time I read a new update from you.